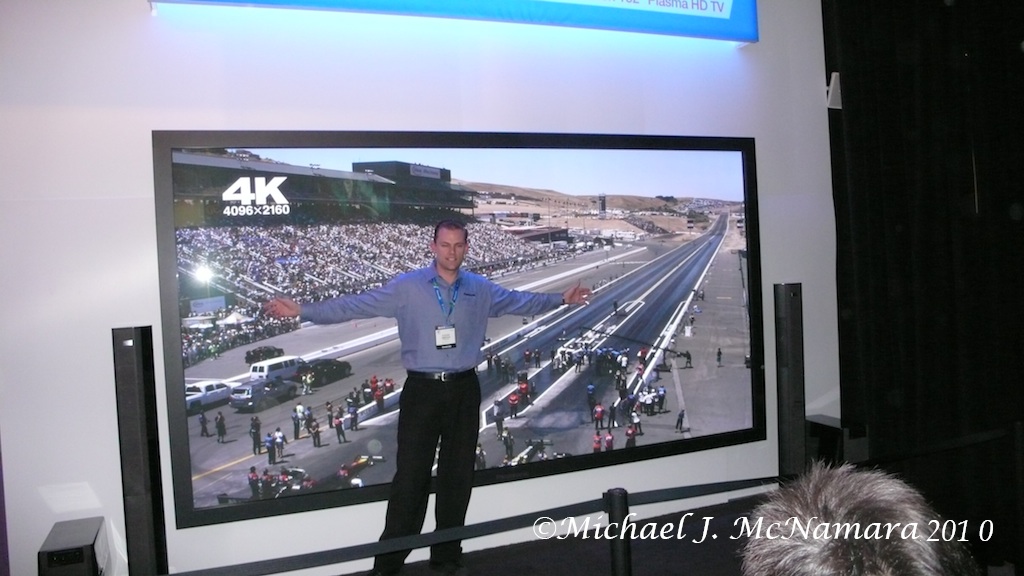 It doesn't get much bigger, or better, than the CES show in Las Vegas. And in Las Vegas, size matters! In this photo, Panasonic shows off its 152-inch plasma TV. Price? If you have to ask, you can't afford it!
Every time I head out to cover the annual Consumer Electronics Show (CES) in January several questions go through my mind: Is it going to be warmer in Las Vegas than it is here in NY? Are the lines going to be as long again? And what will be the hottest technology at the show? The answer to the first question is always a gamble (appropriate for the town in question, don't you think?): I've actually been to the CES show three times when it was snowing before, during, or just after the show, and several times when it was actually warmer in NY than in Nevada. This time around, however, I got a break on the temperature, as daytime highs in Vegas averaged in the mid to upper 60's, and the show floor was even hotter, literally and figuratively! (Back just one day from the show and the temp outside my studio in NY right now is 1 degree! Brrrr!)
As for question number two: In the past I've referred to CES as the "Hurry up and wait!" show. This year, despite my best efforts to avoid the slowdown in Vegas by getting there several days early for "Press only" events, I ran smack into the slowdowns again. First, it took nearly 13 hours to get to Las Vegas (compared to a normal 8 hours), thanks to major incompetence on the part of U.S. Air (USeless Air). Second, the onslaught of approximately 110,000 attendees flocking to the show this year taxed the taxi system as usual, with wait time stretching from 20 to 40 minutes in many cases. And thinner than usual staffs at all of the hotels led to longer lines at check in, restaurants, and other venues. As a veteran of the show, I always pick a hotel near the monorail, stock my fridge with Starbucks coffee the night before to avoid morning lines, and take the monorail whenever I can. But this year, unusually long lines were also the norm at the MGM monorail station heading towards the show, and even my secret short cuts around the show floors were little help.
However, if I had to do it all over again, I would—but perhaps I'd stay a day or two after the show to enjoy the great weather I barely had time to enjoy, or wander through the show on its closing day to enjoy more of the incredible displays and new technology that I'm sure I missed. My primary goals at the CES show have always been to find new and innovative technologies that will affect the way photographers and videographers capture, display, and share their photos and videos. At this year's show, there were many exciting developments on the capture front, and quite a few online, picture-frame, or cell-phone based "sharing" technologies announced.
I'd have to dub CES 2010 as the year that large screen TV's finally got to the point where they can't go much further—especially when it comes to image quality, 3D capability, thickness, or size. (I'm sure I'll be proven wrong on the size, but size isn't everything when you can't even fit the current size champ, a 152-inch Panasonic plasma screen, through the doorway of the typical mc-mansion. See photo above.)
After analyzing last year's CES show and a number of other big shows I had attended in 2008, I predicted the rapid growth of 3D capture and display technology during my presentation at the DIMA show prior to PMA in February, 2009. (What's Next in Consumer Digital Photography? DIMA 2009). However, even I didn't expect to see the advancements in 3D capture and display technology showcased by Panasonic, or the 3D and LED displays that wowed the audiences and stopped floor traffic dead at Samsung, LG, and Sony booths. Panasonic introduced the first pro-level, relatively compact 3D HD camcorder with a dual optic lens that helps feed a stereo view to dual HD sensors within the camera. I believe this model is just a hint of what's to come out this year on the camcorder front—but I'll bet money that Panasonic is working on a similar solution for its G-Series interchangeable lens hybrid cameras. At the same press conference, Panasonic introduced several large 3D-capable plasma screens, a 3D capable Blu-Ray disc player, and a announced a partnership with Direct TV to support a full HD, 3D channel in 2010. (Note: At the Panasonic press conference it was revealed that unless a "3D-capable" TV or monitor features a new HDMI version 1.4 connector, it won't be compatible with standardized 3D playback devices such as the Blu-Ray player mentioned. Nice surprise to anyone who bought a 3D TV over the holidays featuring the advance 1.3 HDMI connector!)
While Panasonic gets my vote for numero uno on offering the best end-to-end solution for 3D technology, it had quite a bit of competition from the other display manufactures when it came to 3D TV and LED TV. At LG, ultra thin LED monitors were the big attraction, with colors that jumped off the screens. The same can be said of the LED displays at Samsung, which also showcased several 3D-ready LED models that combine the best of both worlds. Samsung gets my vote for having the best monitor display I've every seen in my life—on a scale that defies description, but hopefully can be approximated by some of the photos in the following gallery:
At home, I not only watch my HD videos on it. I'm looking to replace my ailing 2003 vintage- 57-inch Sony HD CRT rear projection model this year, and until I saw the Samsung 3D LED display, I was leaning towards an LED TV vs a 3D capable plasma or LCD model as my next purchase for the living room. For me, the color accuracy, expanded color gamut, and the glass-free viewing experience you get from an LG, Sony, or Samsung LED TV is superior to any other display technology. (Ok, I was impressed with the color and viewing angle on the 20+-inch OLED teaser Sony had hidden in a back room, but that's still several years away from the mainstream especially when it comes to competing on size.) Also, for the moment, there really isn't enough 3D content to make me want to purchase a TV based on its 3D capability (plus I'd have to add a 3D- Blu Ray device, and several pairs of high tech 3D glasses to the purchase.) Hopefully, with the success of 3D movies such as Avatar (which grossed over 1 Billion dollars worldwide in just a few weeks!) that will change over the next few years. But for now, I think I'll wait till after this year's Infocomm 2010 show to see what the other manufacturers bring out on the 3D LED front, then save up for next Christmas's big screen for the family. Oh yeah, they want one too!