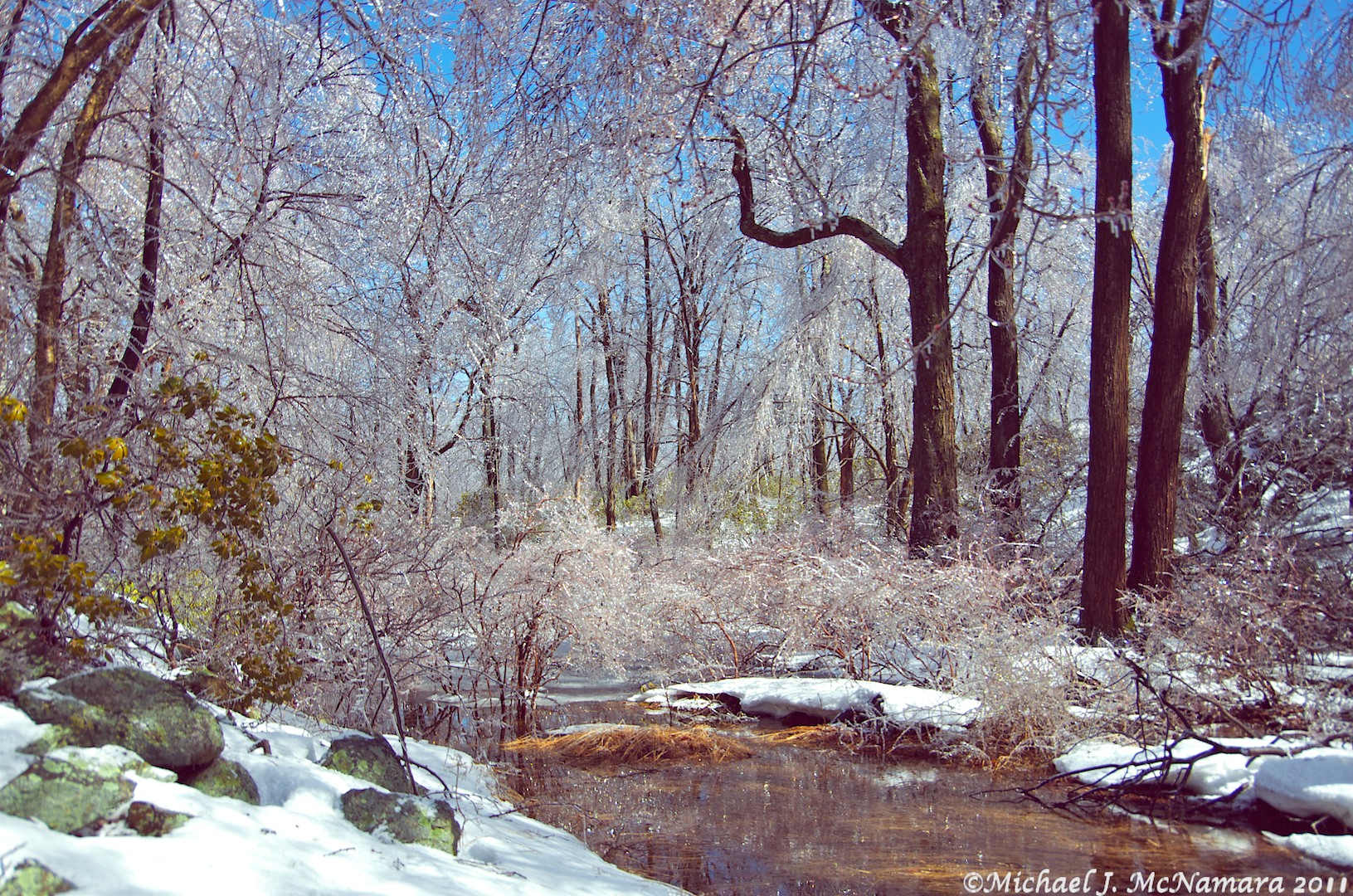 Fahnestock State Park.
Ice storm video
To document the gift that Mother Nature left behind with both still photos and video, I decided to test out the new 16.3MP Pentax K-5 DSLR and the incredibly compact, weather-sealed SMC Pentax-DA 18-135 f/3.5-5.6 ED AL lens. I was hoping that the camera's high resolution still capability, its ability to record Full HD 1080p video, and its new auto-HDR mode would do justice to the magical crystal scenes that appeared in all directions as I crossed the ice line.
In addition to a half dozen blizzards that made this Winter one for the record books across New England, this was the third ice storm to hit my area in the last three months. After the first two, I managed to get a few decent shots, but wasn't totally satisfied with the muted lighting caused by cloud cover. However, I learned several lessons about shooting in a forest coated with a quarter inch of ice. From a camera meter's perspective, it's just like shooting chrome car bumpers at an antique car show–damn tricky! (Dialing in a bit of overexposure compensation, even when shooting RAW, is especially helpful when shooting into the direction of the sun). From a safety perspective, it can be very dangerous, especially if the wind starts blowing and you happen to be standing or sitting under an ice-coated tree. Even if the branches don't break off and hit you (a higher probability than usual!), getting pelted by a shower of pointed ice crystals dropping from 30-60 feet above you can be very painful and damage your camera if you don't protect it. And last but not least, we're talking about ice coating everything, not just on tree branches. So even a familiar dirt path or plowed parking lot can send you flying on your ass if you're not careful. In my opinion, the dangers and challenges faced are worth the results, just like when shooting lightning…
Every ice storm can produce beautiful scenes, but I was surprised at how this one towered over the previous ones I'd encountered. Everything looked more brilliant and silvery than it did in the last two storms, and the ice actually created a prism effect that produced rainbow colors on the branches. I think I know why this storm's ice produced such a stunning vista. In the first two storms, the ice mixed with snow as it built up on branches, creating a milky ice coating that doesn't reflect sunlight as well as the crystal clear ice that had formed after this particular rain storm. Combine that with a cloud cover that was quickly replaced by bright sun and a clear blue sky (blue background instead of gray), and voila! Silver and rainbow-colored ice storm! Or at least that's my theory.