Home » Printing, Reviews, VIDEO BLOG
Big Story on Big Printers!!! (with HD Video Review)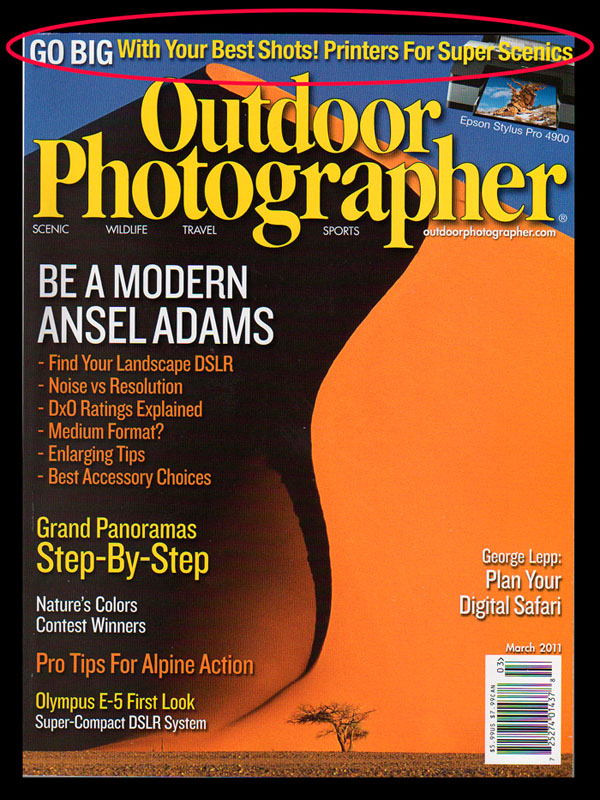 "Go Big With Your Best Shots! Printers for Super Scenics" featured in the skyline of this month's Outdoor Photographer Magazine (above one of the most beautiful cover images I've ever seen by George Lepp).
The ironic twist comes from the fact that Outdoor Photographer magazine was and still is PP's number one competitor, and had been the subject of several reports and conversations I had at my former gig. For the 10 years I tracked it between 1998 and 2008, OP was the only magazine that grew its readership, while the readership at nearly all other photo magazines—especially PP and AP—shrank significantly. I can't go into the details of my competitive analysis reports due to my severance agreement, but I can say that I was always impressed by how targeted OP was to photo enthusiasts in both content and design, and that it was the only competitive magazine I read on a regular basis during that time. A glance through the current issue shows that it has remained on track, and is a much better value (and a much healthier book, based on content, ad diversity and page numbers) than PP is today. An added twist is that the lead story in this month's PP is all about tips for improving your outdoor photos. Too little too late?
Now I'll have to add one other publication to the short list of my favorite reads: Digital Photo Pro. In my opinion, it's equally targeted and designed for professional photographers, and I'd highly recommend it to anyone who's thinking of going pro with their photography. Perhaps I could convince the editor of that magazine—Chris Robinson (hey, isn't he the editor of OP too?)—to surprise me again in a few months with a cover story of my own on DPP? Hint, hint!
MOVIE TIME:
In related news, I recently completed a product-comparison movie on three state-of-the-art 24-inch ink jet printers—the Epson Stylus Pro 7890, Epson Stylus Pro 7900, and Canon's ImagePROGRAF 6300. Find out what I discovered regarding the differences in their setup, performance, image quality, and extra features in the following video (click on the arrow icon in lower right corner to play it in 720p HD):