Hang on to your budgets and pixel-calculators, everyone. At the Photokina trade show in Cologne, Germany this September, Hasselblad introduced two new medium format digital cameras, the H3DII-39 (pricing estimates are around $22,000, street) and the H3DII50 (priced around $28,000, street). These cameras were mentioned in the a previous Photokina Report, but to summarize: the Hasselblad H3DII-50 will be the first camera in the market equipped with Kodak's larger-than-35mm 50 megapixel CCD sensor. As if a 50MP sensor is not impressive enough on its own, Hasselblad also announced that it hopes to raise the bar again in 2009 with the H3DII-60, a 60 megapixel version with a price-tag of about $35,500 (I guess there's a shortage of 60MP sensors due to the high demand from government spy satellites!!)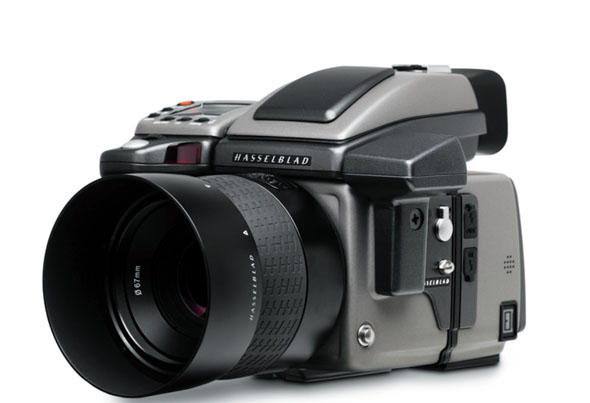 For more analysis on the Hasselblad H3DII50 features, listen to the October 18, 2008 McNamara Report segment on Inside Digital Photo (slide to the 22min 30sec mark for that segment);
Audio clip: Adobe Flash Player (version 9 or above) is required to play this audio clip. Download the latest version here. You also need to have JavaScript enabled in your browser.
So the megapixel wars continue, albeit for the few who can afford it, want a medium format system, or are locked into Hasselblad by a sizable investment in its glass. But if you're looking to move up the megapixel chain from your advanced amateur or pro DSLR and wow! your clients with an uber-camera, is a Medium Format system the best choice? Hasselblad claims it is, but I disagree with some of the arguments I've heard. For example: During the Photokina press conference, Hasselblad CEO Christian Poulsen contended that 35mm-based digital SLR companies won't be able to compete with medium format because their lenses can't handle the resolution of super-high res sensors. According to a quote in Photo District News by Dan Havlick, Poulsen said "In my opinion, for those cameras, the pixel game should've been over a few years ago. I don't think you can tell the difference between a 16-megapixel camera and a 21 or 24-megapixel camera and that has nothing to do with the sensor, it has to do with the resolution of the lenses."
Is he kidding? I haven't heard a CEO of a major company make such an erroneous claim since the launch of the Foveon X3 sensor. Facts don't support Poulsen's statement about the superiority of medium format lenses over 35mm lenses, and my fairly-recent test experience while at Popular Photography magazine refutes his claim about being able to tell the difference between a 16MP and 21 or 24MP camera. Fact: Lab tests using a fairly inexpensive Canon EF 50mm f/1.4 lens showed a 10+ percent increase in resolution delivered by the new Canon EOS 1Ds Mark III over the older 16.7MP Canon EOS 1DS Mark II (tested at approx. 2800 lines vs 2500 lines respectively).
Why would a company that makes a few thousand lenses a year for its Medium Format systems believe that it had better lens technology than companies typically selling millions of lenses per year? (and collectively spending 100 times more in lens R&D per year?) The fact is that until recently Hasselblad and the other remaining MF companies did little to optimize their lenses for use with digital sensors. Instead, these companies relied on the MF size/magnification advantage that propelled them through the film camera years, and not superior lens technology. Back in 1995 Popular Photography magazine reported that MF lenses (even the best available at the time) were not as sharp as the top lenses being manufactured by 35mm SLR companies such as Canon, Nikon, Olympus, Konica Minolta, and Pentax. Despite this finding, those MF lenses still helped MF cameras deliver better image quality and detail. Why? When enlarging the captured film image to print or even projection size, the larger-sized film  used in MF cameras did not have to undergo as great a magnification as 35mm film, and therefore could get by with slightly lower resolution at the lens.
Assuming the same brand, ISO, and film type, the film being used in both 35mm and MF cameras came off the same production line, was cut to different sizes, and therefore had the same potential resolving power. If a MF manufacturer made sharper lenses the advantage would have been even greater–but the cost of doing so apparently outweighed the visible advantages, and MF lenses were already several times more expensive than 35mm equivalents due to their larger size and shorter production runs. Meanwhile, for several decades, 35mm manufacturers have been spending millions per year trying to create lighter, more affordable lenses with improved brightness, sharpness, flare reduction, light falloff, autofocus engines, and image stabilization systems. Their goal? Sell millions more lenses per year along with millions of SLRs and DSLRs, more than enough to offset lens R&D spending. (Little know factoid: roughly 12,000 medium format cameras were sold per year in US during their peak in the mid-to-late 90's, which may be one reason why several MF manufacturers are no longer around.)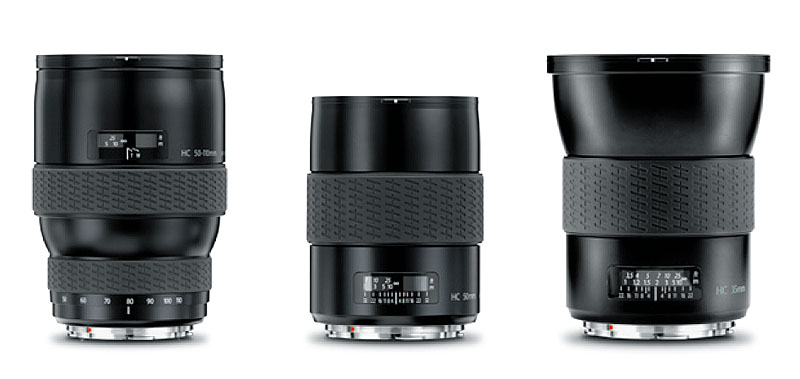 Are these expensive Hasselblad lenses really sharper than their 35mm counterparts?
CCD and eventually CMOS sensors started showing up with a whole new set of problems for the 35mm lens and camera manufacturers. Unlike film, which can capture a ray of light coming in at extreme off-axis angles, CCDs and CMOS sensors have less sensitivity to off axis light rays and more sensitivity to flare, soft focus, and light falloff. To compensate, sensor designers added micro-lenses on top of each pixel to help steer the light into the sensor (imagine trying to throw a basketball into a well from twenty feet away. It would sure help if there was a large funnel on top of the well to help guide the ball in.) Meanwhile, in order to keep up with the megapixel sensor growth, 35mm lens designers had to improve the edge-to-edge performance, reduce chromatic aberration and internal reflections, and fine tune the AF precision (among other things) of their lenses. As a result, digitally optimized lenses have been available from most 35mm manufacturers for the last 5 years. However, when the first Hasselblad H1D was released sporting a Kodak 16MP sensor in its digital back, there were no digitally-optimized Hasselblad lenses available. Instead, the smaller format of the sensor relied on the sweet spot of existing lenses to provide extremely high (and beyond satisfactory) image quality. 
The question anyone who is considering either the new 50MP or promised 60MP Hasselblad should be asking is whether the Hasselblad lenses they already own, or may purchase in the future, are optimized for the size and design of these new Kodak sensors. As in the film days, the resolution of the sensor isn't the advantage point, but it's larger format is. The size of the pixels in the 50MP Kodak sensor used in the H3DII are nearly the same as the size of the pixels in the Full Frame 21.1MP Canon EOS 1Ds Mark III or in the 24Mp Sony A900–so the Kodak sensor does not offer dramatic improvements in resolution (at the sensor), low light sensitivity or noise advantage based on the pixel size (as it generally the case when comparing large and small pixels). What you gain by shooting with a 50MP or 60MP medium format camera is either a cropping advantage, or an increase in maximum reproduction size–the same advantages offered by MF cameras in the film era. (Now, if you were able to pack 50MP into a 35mm full frame sensor, you would increase the resolution significantly compared to a 21MP sensor, but you would also decrease low light sensitivity as a result of using smaller pixels.)  
Granted, looking through the enormous optical viewfinder on the Hasselblad is a real treat, and carrying one around is a traffic stopper, but is the higher price for these medium format bodies and the larger, more expensive lenses it requires worth it when compared to existing 21 and 25MP full frame DSLRs from Canon, Sony, and eventually Nikon? Not for me, or most other pro photographers who would rather have lighter, brighter, faster focusing, and image-stabilized lenses along with pro camera bodies that offer far more image quality and performance controls, greater durability, and speed compared to the Hasselblads or any other MF camera (although the new 37.5MP Leica S2 may help change my mind). Forget about shooting sports with this Hasselblad (unless you do the team photo) as it has a non-existent burst mode, or taking it outside in a light rain. And if your goal is to WOW! new clients with extraordinary image detail, you'll be in line with the other photographers shooting with the Canon EOS 1Ds Mark III. Given all the above, you have to wonder how long Hasselblad will be able to compete against the full frame 35mm DSLR crowd, and if it will sell enough of the new H3D models to justify further developments.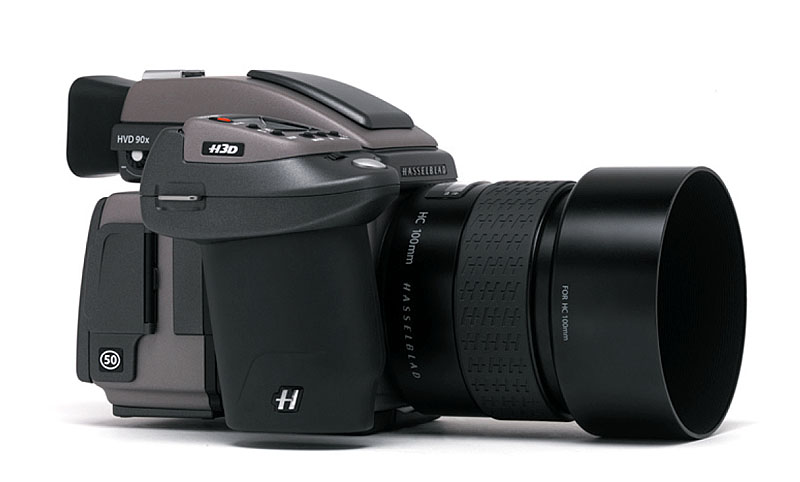 Burst mode? WHAT burst mode? It takes 1.2 sec to store each 50MP image.