I love making my own prints from the photos I shoot. It doesn't matter if the original photos come from digital cameras or from film scans, I want to control the process from end to end in order to produce a work of art that represents my vision and not a lab technician's (or worse–a minilab's auto-balancing filter.) There have been too many times when I received prints back from a lab that had color and contrast that didn't come close to the actual colors and contrast captured by the camera. In fact, the thrill I felt when I made my first photo print (in color, by the way, using a Kodak Ektaflex printing system I set up in my bedroom) got me seriously hooked on this photography thing that wound up becoming my career. Now, many years and thousands of prints later, I still get a kick out of printing. But much has changed in that time.
Before decent ink jet printers arrived on the scene, I spent more than 1,000 hours in darkrooms mastering the craft of "silver-halide" printing in both color and black and white mediums. The chemical darkroom was fun while it lasted, but I'm never going back. For starters, I don't miss inhaling strange stop bath and fixer fumes (although the possible damage done might explain some aspects of my personality), nor to I miss the setup and clean up routines which often lasted as long as the printing session. Most importantly, I have come to prefer the expanded color gamut, paper surface and material variety, display longevity, and precise control I get from modern ink jet printing systems compared to silver halide printing.
However, having reviewed dozens of ink jet, dye sub, and other types of digital printers over the last 18 years, I know what works and what doesn't–at least for me. When it comes to photo-quality printers, I'm picky–and usually gravitated towards the 13×19-inch or larger models. However, I don't always need super-sized print output, and occasionally I find myself popping out 4×6 prints as fast as I can to hand off to a visiting relative or friend, or even printing a color document (for black and white document printing, nothing is economical or as fast as a sub-$100 laser printer.) That's why I love the new Epson Artisan 800 All-in-One (AiO) printer ($299).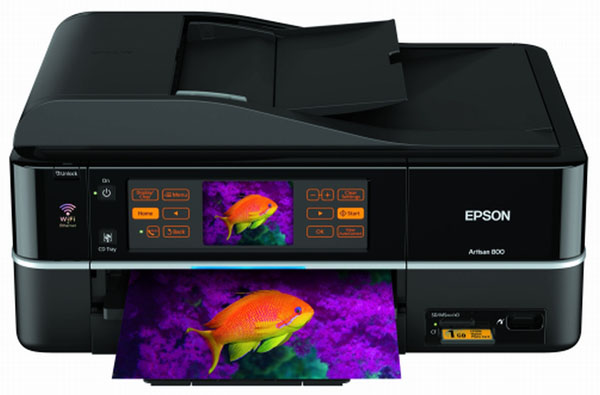 As its name implies, Epson's Artisan 800 AiO does more than make prints. It can also copy color or black and white documents (up to 40 at a time via the document feeder), fix up faded and damaged photos, scan photos and art, fax in color or b&w, and even print directly onto coated CD and DVD disc. In addition, the printer offers Bluetooth, Wi-Fi, and LAN networking connections for attaching to home or office networks and to camera phones and other portable devices. The Artisan 800 is loaded with easy to use image enhancing features that can produce brilliant prints and expand the capabilities of your home digital darkroom. By giving you control over the final output in addition to expanded gamut and higher color accuracy, I think the resulting prints will rival or exceed the image quality of prints made in silver-halide based minilabs, plus the ability to print on various media (including CD and DVDs) make this AiO one of the best choices around for serious photographers on a budget, or creative artists who want to do more with their images or art.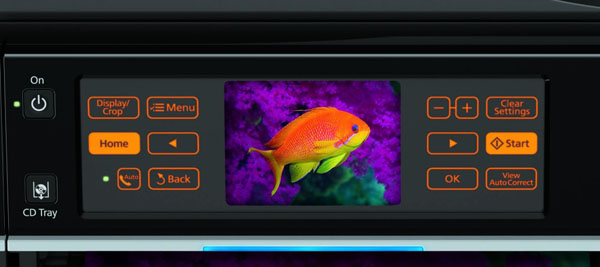 For more analysis on the Artisan 800 features, listen to the October 11, 2008 McNamara Report segment on Inside Digital Photo (slide to the 19min 45sec mark for that segment);
Audio clip: Adobe Flash Player (version 9 or above) is required to play this audio clip. Download the latest version here. You also need to have JavaScript enabled in your browser.
And for additional comparisons on the Artisan 800 features versus its competition, read my Selling Tips column in Photo Industry Reporter.