Camera phones are everywhere these days, but you don't you see any serious photographers using them. Why? Image quality and flexibility are on the low scale for most camera phones, with none offering a decent zoom lens, sufficiently powered flash, fast AF, or burst modes. And the few models that do offer higher resolution cameras and decent image quality, such as the 5MP Nokia N95 with its Carl Zeiss AF lens, are a bit too expensive ($500 and up) for most budgets. After all, you can get an incredibly good compact camera with a 5X-18X, image-stabilized zoom and even a dedicated hot shoe for under $500–or even an entry level 6MP DSLR.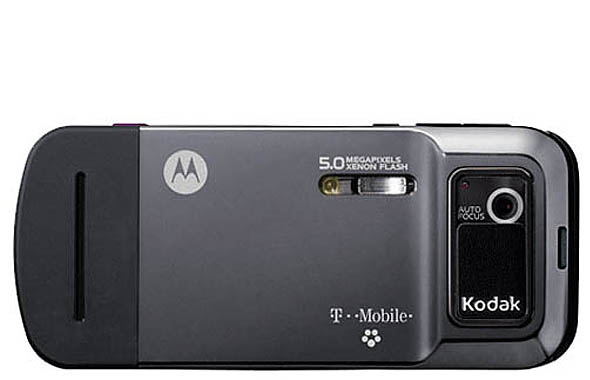 The new Motorola Motozine ZN5 is the result of a collaboration with Kodak–the manufacturer of the 5MP CMOS sensor and imaging smarts found within. Great price too: Free with a 2yr contract.
Sure, an advanced camera phone (or portable Multimedia Computer as Nokia likes to call its top N-series models), can do a lot more than take pictures. In addition to making calls, some also act as organizers, web browsers, remote controls, and even GPS devices with photo geo-tagging capability. However, paying the least amount for the most features seems to be the rule when shopping for a camera phone, and typically its the camera part of the deal that suffers. That might change with the introduction of the Motorola MOTOZINE™ ZN5 camera phone. This sleek model is actually free with a two year contract (minimum plan costs @39.99/month for 600 anytime minutes, subject to change), yet appears to be targeted at serious photographers on a budget. Most notably, its 5MP CMOS sensor and image processing engine are designed and manufactured by Kodak, and is the first fruit of a partnership between Kodak and Motorola that has been underway for the last two years.
This MOTOZINE ZN5 will be available exclusively for T-Mobile USA customers–one of its limitation as far as I'm concerned since T-Mobile lacks the extensive high speed 3G data network of either Verizon Wireless or Sprint. This device doesn't feature 3G data transfer, but is EDGE compatible, making it as fast as phone modem when surfing the web or uploading images. But since most camera phone users don't send the majority of their images via their cell network, and instead rely on the devices memory card to store and transfer, being locked into T-Mobile isn't the worst-case scenario. Plus, the ZN5 can be purchased unlocked directly from Motorola, (although at a price of $349) allowing you to insert a pre-paid SIM card and use the camera phone in compatible GSM networks when traveling overseas.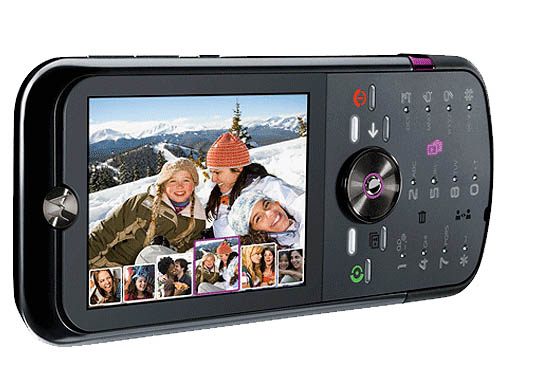 Bright, relatively sharp 2.4-inch LCD monitor makes it easy to view and share images. The shutter button (located on top right side in this orientation) and camera controls are readily accessible.
I could spend several pages just examining the cell phone features in this camera, but let's concentrate on the phone's camera instead. It features an autofocus 5.86mm, f/2.8/5.6 lens, 2.4-inch (240×320 pixel) LCD screen, a true Xenon flash (not a lower-power LED light, often confused with real flash), and even includes a video out jack for running slideshows straight from the phone to your TV. Switching from phone to camera mode occurs rapidly when the lens cover is slid back, and the camera's shutter button is located right where you'd expect it to be on a compact camera. There are also many other features that will appeal to photographers, including a panoramic stitch mode, a supplied 1GB MicroSD card for storage (with support for up to 4GB), optimized image settings for low light shooting, built-in red eye reduction, and the inclusion of Kodak's Perfect Touch technology for optimizing shadow and highlight detail. Plus, the phone includes a dedicated share key that lets you access picture messaging, T-Mobile's MyAlbum, or Kodak's online Gallery photo sharing–and the phone's built-in Wi-Fi lets you send images quickly through a WLAN home network or WiFi hotspot.  Want prints? The camera can send files directly to Bluetooth-enabled printers from a wide variety of manufacturers.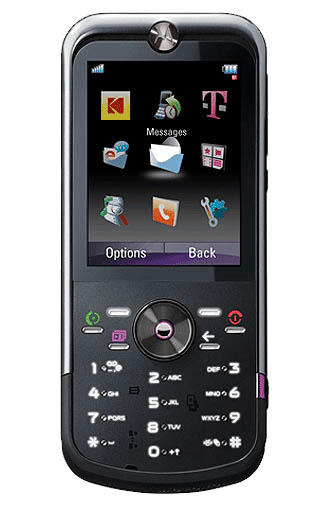 The ZN5 offers many ways to share your photos, including a button link to Kodak's EasyShare Gallery.
Ok, the ZN5 may not be as uber-user-friendly as the Apple iPhone 2.0 (which still lacks a decent camera) or as sophisticated as the latest Nokia N96 (with a great camera, 16GB memory, A-GPS, super fast 3G data rates, superb MP3 player, high quality video recording, and a $600+ price tag), but for the relatively low price and high image quality potential it might be worth considering. Plus you can use it as an FM radio, MP3 music player, alarm clock, and conversation piece. Sound good for a "free" phone? Since I haven't actually shot photos with one, it's too early to make the call!
For more analysis on video recording with a DSLR, listen to the November 08, 2008 McNamara Report segment on Inside Digital Photo (slide to the 20min 45sec mark for that segment);
Audio clip: Adobe Flash Player (version 9 or above) is required to play this audio clip. Download the latest version here. You also need to have JavaScript enabled in your browser.