The biggest surprise at last month's Photokina show, and certainly one of the hottest camera products of the year, had to be the new 37.5 megapixel Leica S2 and its lens family. (If you have to ask how much it's going to cost, this camera isn't for you! Estimates with a 70mm lens: @20 grand.) For many years, Leica has been struggling to make a solid stand in the digital camera arena, with limited success–and some near failures. Its early DSLR models never really made it into the U.S., and sales of the Leica M8 digital rangefinder were abysmal in 2007  until Leica found a way to fix its excessive sensitivity to infrared radiation. As you may recall, that sensitivity caused the M8 to record many black materials and even human hair with a strong purple cast. Leica responded by bundling IR filters with new lenses and selling IR filters for its older lenses–not the ideal solution for Leica lovers who abhor lens filters of any kind.
However, the new Leica S2 digital SLR appears to be a well designed, and thought out piece of camera equipment. It's really the first-of-its-kind DSLR, with a larger than 35mm CCD sensor (30x45mm vs. 36x24mm, approximately 56% larger) delivering  medium-format class resolution and a normal 3:2 aspect ratio. It's actually smaller than an EOS 1Ds Mark III, but slightly larger than the EOS 5D Mark II.
For more of my analysis and initial reactions to the Leica S2, listen to the October 4, 2008 segment of the McNamara Report on Inside Digital Photo (slide to the 11min 50sec mark for that segment);
Audio clip: Adobe Flash Player (version 9 or above) is required to play this audio clip. Download the latest version here. You also need to have JavaScript enabled in your browser.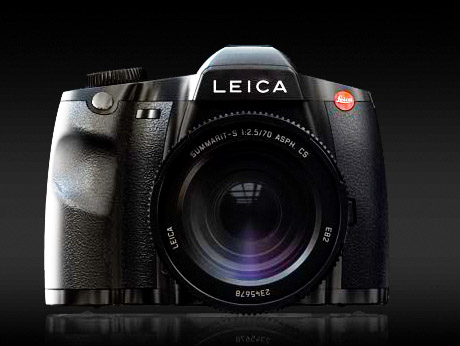 Front view of Leica S2 with supplied "kit" lens, the Summarit-S 70mm f/2.5 standard (which should give the approximately the same field of view as a 50mm on a 35mm Full-frame DSLR.
To learn more about the sensor used in the Leica S2, I thought I'd go to the source (Kodak, not Leica):
Kodak Release: The LEICA S2 camera, powered by the new KODAK KAF-37500 Image Sensor (6.0 micron, new KODAK TRUESENSE 6.0 micron Full Frame CCD Platform,), is the third product from Leica to be based on KODAK CCD Image Sensors – a relationship that began first with the LEICA Digital Module-R and was then extended with the LEICA M8 camera. With an imaging area of 45mm x 30mm, the 37.5 million pixel KAF-37500 represents a new optical format for photography, providing an image capture area over 50% larger than traditional 35mm film. The sensor also includes specific design features that optimize its use in the S2 camera, such as the use of microlenses to increase the overall light sensitivity of the device, enabling improved image quality under low light conditions. In addition, an infra-red absorbing optic was incorporated directly into the sensor's packaging, enabling the development of a thinner camera design by eliminating the need to include this IR-absorbing function as a separate camera component.
The last line of that press release was certainly written to target worries that this camera might follow  in the infrared shoes of the M8. But this time the IR cutoff filter is located where it belongs–in front of the sensor and not in front of the lens. Note that the pixel size on the sensor is 6 microns, which is slightly smaller than the 6.4 micron pixels on the new 21.1MP Canon EOS 5D Mark II. So right off the bat any claims for increased light sensitivity due to the size of the sensor pixels will have to be measured against existing 35mm Full-frame pixel sensitivity, including the pixels found on the 25MP Sony A900 and the significantly larger pixels found on the Nikon D3. That said, the higher pixel count on the Leica S2 is the result of a larger-area sensor, and not due to packing more pixels into a smaller area–a good thing. With its increased sensor size and pixel count, plus sharp Leica lenses, the S2's image resolution should be about 15% higher than on the Canon EOS 5D Mark II or EOS 1Ds Mark III. (FYI: It takes at least 4X as many pixels to double the resolution on a camera sensor.)
Image quality will also benefit from the new Maestro image processor (developed with help from Fujitsu) that enables the S2 to produce in-camera JPEGs from the RAW files (stored separately as RAW DNG format images.) Leica claims that up to 400 can be stored on a 32GB SDHC card which seems like a misprint considering the file size this equates to (80 MB each). But for additional storage, or even the primary storage considering the capacity required, the S2 has a CF card slot as well. In addition to a wide array of image quality settings, the S2 supports both the sRGB and Adobe RGB color space. I will guess that it will ship with a version of Phase One RAW conversion software since Leica just announced a partnership with Phase One.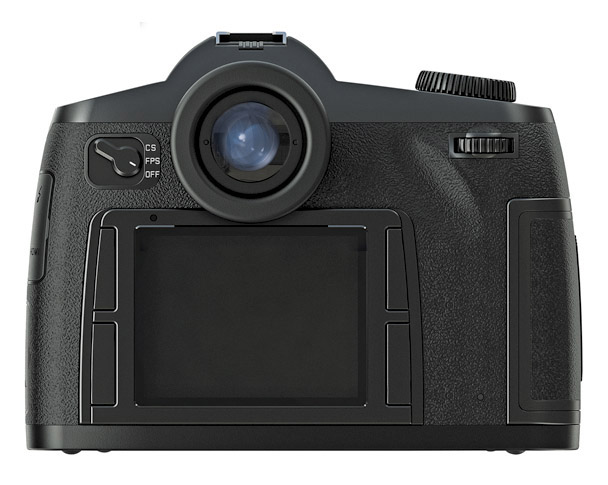 Other significant features on the S2 include the 3-inch 460,000 pixel LCD screen shown above. Wait, did Leica say pixels? Actually, it looks like Leica has yet to adapt to the CIPA standard for differentiating between pixels and dots. The LCD monitor on the S2 is most likely a 460K dot screen (equating to a 153,000 pixel screen). That's sharper than most but not as sharp as the 3-inch LCDs found on the Canon 5D Mark II, Sony A900, and Nikon D3, all of which use 920,000 dot screens. On top, the camera uses a small OLED data screen. In my opinion, that's a controversial decision, considering the longevity issues with OLED. Lets hope this one uses the latest technology.
New lenses include a 24mm ultrawide, 30mm tilt and shift, 35mm wide, 70mm f/2.5 standard (should give approx 50mm field of view on 35mm system), 30-90 zoom, 100mm short tele, 120mm macro, 180mm telephoto, 350mm telephoto. All will have leaf shutters built, a benefit for flash sync. Leica claims no distortion in these lenses, and therefore no need for post processing to remove lens defects. We'll see.
According to Leica, the camera features an in-body focal plane shutter up to 1/4000 sec, and an "ultra-high" precision and quiet AF system. The lenses all include separate leaf shutters that should allow for faster flash sync with external studio strobes. No word yet on accessory dedicated flash units, but there's a spot for one on the multi-contact hot shoe, and there will also be an accessory battery grip with vertical shooting controls available (see photo below):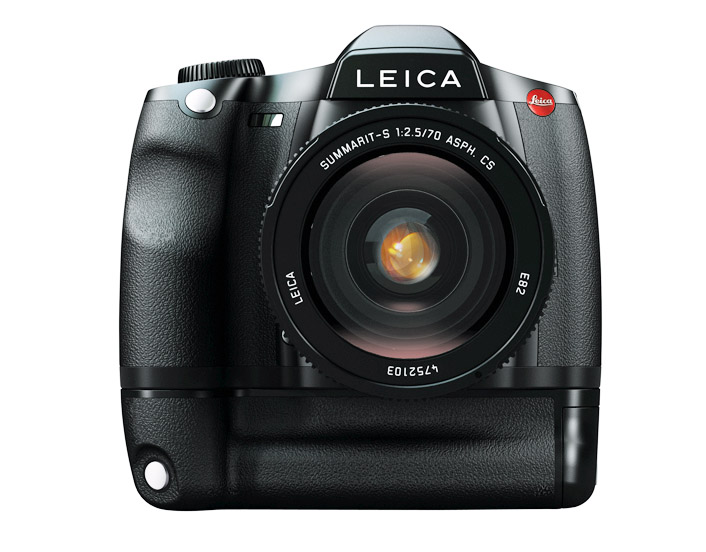 Camera connections include Hi Speed USB 2 and HDMI out. Push and pull LEMO connection adds a bit of security to file transfer–and are even strong enough to support the camera. There's also a separate flash sync connector and a pop-out camera strap connector that hides a slot for a planned WiFi transmitter. But this camera doesn't have a live view mode–a restriction incured by the use of a CCD instead of a CMOS imaging sensor. Is that a significant problem? For studio and macro shooters, it may be. But few Leica photographers will want to take their eyes away from the beautiful optical viewfinder on this camera and its direct view through some of the sharpest, brightest lenses available.
Bottom line: Its size and potential image quality, combined with a wide array of Leica lenses covering the normal shooting scope, make the S2 a significant player in the ultra-high image quality class of cameras. Will it outperform the top end Canon and Sony DSLRs in the image quality arena? Perhaps. It has the potential resolution advantage, but it's still too early to say if it will offer low noise images at high ISOs, or wether its AF system and burst modes are fast enough for more than slow moving, or fixed, subjects. And you have to wonder about the price of this camera and its lenses–or do you?