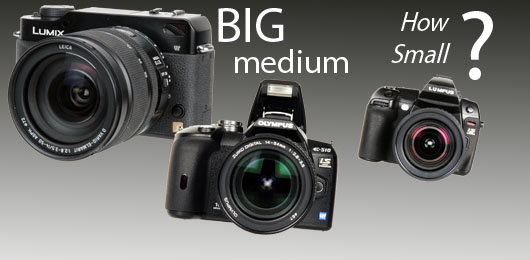 On August 5, 2008 the new Micro Four Thirds camera and lens standard was announced by currently behind-the-scenes partners Panasonic and Olympus. (Unlike the original Four Thirds system team, Kodak isn't a partner in this venture, having left the DSLR landscape for good.)
Featuring a decreased lens-to-sensor distance, 6mm smaller lens diameter, and two more electrical contacts between the lens and body, the goal of the new Micro Four Thirds system is to offer a lower calorie alternative to the current crop of DSLRs. There's also potential for higher performance lenses (especially wide and ultrazooms) and a promise of backward compatibility with existing Four Thirds Standard lenses. But are photographers ready for another interchangeable lens standard in the crowed arena of Canon, Leica, Nikon, Pentax, Olympus Four Thirds, Sigma, and Sony lens mounts?
Time will tell, but the development of this new system didn't surprise me–in fact I've been predicting it for quite some time. At the 6Sight conference in November, 2007 I made this prediction (among several others), and even got the players right:
COMPACT EVF CAMERAS:
On the high end of compact camera design there's still lots of room for improvement. Compared to DSLRs, electronic viewfinder (EVF) cameras currently enable thru-the-lens viewing, lighter and more compact forms, and image-stabilized lenses up to 18X all at a price below comparable DSLR systems.
Currently, there is little after-market profit with these cameras in terms of lens accessories or flash, and electronic viewfinders are course and jumpy. However, as the EVF improves in sharpness and processing systems enable the ability to track motion without screen blackout, I expect the following:
An EVF camera with a new Interchangeable lens system. And I expect it will be developed by one of the a major Four Thirds System player such as Olympus or Panasonic. (But even Sony could pull it off.) This direct DSLR competitor would maintain a smaller, lighter form factor, and feature a vastly improved electronic viewfinder.
Sensor resolution would be 12MP or less, and the sensor will be slightly larger in size than current sensors used in this category. Perhaps it will be called a Two Thirds System instead of a Four Thirds system camera.

It will allow for the use (and sale) of true ultra-wide angle, bright aperture zooms that are not available in any current model. These, and other lenses in this system, will be much smaller and lighter than current DSLR lenses.

Vacuum dust removal and ultrasonic dust removal will keep sensor clean.

Image stabilization will be sensor-shift based, keeping lens prices lower.
We'll have to see if vacuum dust removal will show up in Micro Four Thirds cameras or elsewhere, and I was wrong about these new cameras using a smaller sensor. Instead, the sensor remains the same, giving much desired backwards compatibility with existing Four Thirds Standard lenses (via an optional adapter.)