Photokina, the largest photo-trade show in the world, kicks off in Cologne, Germany on Sept.23. Predictably, manufacturers announce their top models just prior to the show, and this year it's no different. Both Canon and Nikon just made back-to-back announcements of their top advance-amateur DSLRs (we're still hopeful for pro announcements prior to the show!) In this radio segment, Scott and Mike take sides in a verbal shootout of the features to see if Canon's 50D ($1,400) is a better deal than Nikon's D90 ($1,000).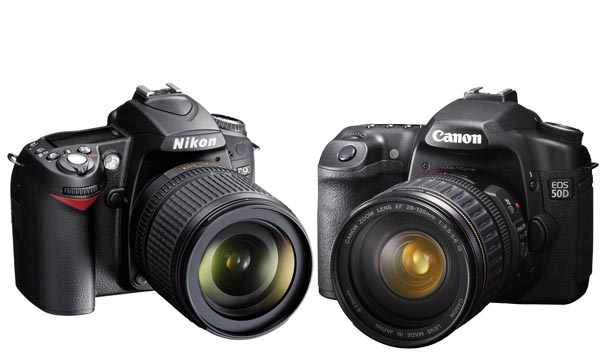 Do your own comparison with some help from the specs below:
Nikon D90 Key Features:
12.3 MEGAPIXEL CMOS sensor with LIve View
Records HD movie clips (720p at 24fps, 1280×720)) up to 5 minutes on fast SD cards
920,000 dot 3-inch screen
4.5 fps burst mode, stores to SDHC card
Built-in commander mode for external flash
11 point AF with scene recognition and face detection. Up to 5 faces. Auto zoom to faces in playback.
Live view with contrast detection AF.
New Expeed processor for fast start up and low noise
ISO 100 (normal 200) up to 3200 (expanded to 6400).
HD video with VR lenses activates VR during capture.
Advantage in movie depth of field control vs most camcorders
Built in audio mic (no external input)
Kit lens adds 3-stop VR. AF-S DX Zoom-NIKKOR 18-105mm f/3.5-5.6G ED VR.
New in camera editing and image processing includes distortion control, lens abberation, straighten, and fisheye effect.
Shutter tested to 100,000 cycles
Up to 850 shots CIPA rating on battery.
New Pictmotion slideshow playback feature
New optional GP-1 GPS unit.
$999.95 MSRP body
$1299.95 with 18-105 lens
Nikon Capture NX 2 optional ($180), Camera Control Pro 2.0 Software ($149)
Canon EOS 50D Key Features:
15.1 MP CMOS sensor with live view function
Built like the 40D, with magnesium alloy frame, weather seals, and 100,000 cycle shutter.
Digic 4 processor, 14-bit A/D conversion
ISOs from 100 to 3200, enhanced to 6400 and 12800.
6.3fps burst mode, with up to 90 JPEGs in one burst or 16 RAW
Takes UDMA Compact flash cards (higher capacities available than SDHC)
Automatic Peripheral illumination adjustment: smart term for vignetting control based on library of lenses.
Comes with Digital photo pro software RAW converter and other neat programs.
Auto Lighting Optimizer control—smart auto levels control.
3-inch, 920,000 dot LCD screen.
HDMI video out
9-zone AF system with 9 cross sensors and super sensitive central sensor (works as cross even with f/5.6 lenses.
Microadjustment feature for fine-tuning lenses.
Creative full auto setting has adjustable controls.
Live view mode includes QUICK MODE AF (phase detection)< LIVE MODE AF (contrast detection)< and Face detection live mode AF (contrast detection ).
Detects up to 35 faces!
Two small RAW formats: 7.1MP and 3.8MP
Ultrasonic CMOS sensor cleaning system
$1399 body, $1599 with 28-135 f/3.5-5.6 IS USM lens.
Canon also announced a new 18-200mm f/3.5-5.6 IS usm lens for $699.