Olympus is a camera company that we all know and respect, but for years it's lagged behind top tier DSLR manufacturers like Canon and Nikon when it came to advanced-amateur and pro-level DSLRs. The main reason? Sluggish autofocus systems that couldn't keep up with action, especially in low light. I became acutely aware of the problem when Olympus introduced its first Four Thirds Standard DSLR, the Evolt E-1, back in 2003. After running a production model through AF-speed tests in the Popular Photography lab (where it didn't do well at light levels below EV 5), I got invited to shoot with the E-1 at an Olympus-sponsored fashion show in NYC. The AF system was so slow and insensitive, despite spotlights illuminating the colorful runway models, that I switched the camera to manual focus—as did several other photographers in the vicinity. But manual focus wasn't easy considering the tunnel-vision producing optical viewfinder on the E-1.
Olympus tweaked the AF speed and improved the viewfinder experience over the next few years with models including the Evolt E-300, and later models such as the E-510, but no model came close to the AF speed and sensitivity of competitively-priced Canon and Nikon systems until last fall. That's when Olympus introduced its flagship 10.1MP E-3 (currently selling for about $1450 street price, body only) with a radically new AF engine and dramatically improved viewfinder.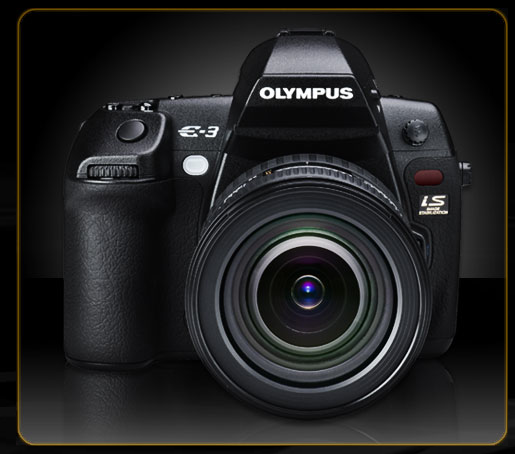 Photo of Olympus E-3 used with permission from Olympus America Inc.
Olympus claimed the E-3 had the fastest AF system of any DSLR when shooting in bright light, and my tests on that camera, published in the December issue of Popular Photography magazine, confirmed Olympus's claims. In fact, in that test report, I declared that the E-3 was the best camera Olympus had ever produced. But it's been more than a ½ year since, the E-3 has dropped in price, and nearly every other DSLR manufacturer has introduced new DSLRs in its category—so is the E-3 still a bargain, and a top choice for photographers looking for a pro-level camera and fast AF system? I think so, and Olympus helped solidify my opinion of the E-3 by inviting me to photograph the high speed (and dramatic!) action at this year's US Open Tennis Tournament in Forest Hills, NY. The best part was that I wasn't left to shoot the matches from a nice, air-conditioned press suite or box seat, but was given courtside, all-access photo passes to get as close to the action as all those "pro" sports photographers shooting for national and international magazines and newspapers. Wait! Did I say not shooting from an air-conditioned press box was a good thing?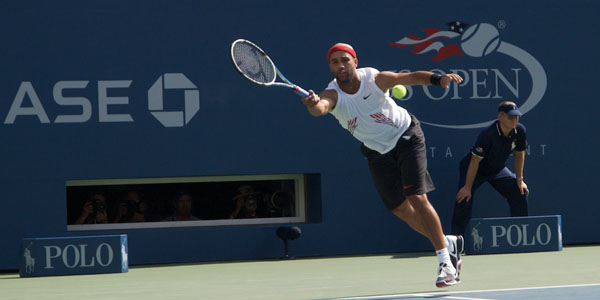 James Blake returning a serve from Steve Darcis at the US Open. A hard shot to get with older, slower-focusing Olympus DSLRs, but the top ranked E-3 was up to the challenge. Note the photographers in the "pit" behind Blake, and see more photos taken during this match and several other matches (copyright 2008 by Michael J. McNamara) in the gallery below.
I might have to rethink that decision next time I go to the US Open. After shooting from the sidelines, the pit, the roof, and on several of the surrounding courts, I now know why the pro photogs shooting these events always seem so grumpy and intolerant—especially if you happen to block their view with your lens or big head for even a split second. It's really not as much fun to shoot one of these events as you might think. In fact, it's a combination of grueling, hard labor—combined with a chance to get wacked in the face with a tennis ball moving faster than the eye can follow. The prize for all this? Incredible action shots of top ranked tennis players!!
Despite a relatively cool August day in NYC (only in the 80's) sitting through a tennis set in direct sunlight while trying to capture the action can lead to heatstroke if you're not careful or hydrated. When possible, I found myself moving out of the press shooting area on the sides to take shelter in the "pit". That's the area behind where the players serve the ball. In the pit, you are actually below ground shooting out an open window from about ankle-level. You face a much higher risk of getting hit by a serve (or having a ball bounce off your telephoto lens—as happened to a guy sitting next to me during a Venus Williams volley) but at least it's protected from direct sunlight.
Because I didn't want to get my camera bag searched every time I passed a security checkpoint (or police sniper patrol on the roof), I only took two zoom lenses and the E-3 with me. And since all of my shots were outdoors in bright sunlight, there was no need to carry an extra flash either. The two lenses were among my favorites: the Olympus Zuiko Digital 12-60mm f/2.8-4.0 SWD, and the Zuiko Digital 50-200mm f/2.8-3.5 SWD. Together, considering the 2X lens factor, I had equivalent lens coverage from 24mm to 400mm.
Photos and description of Olympus lenses used with permission from Olympus America Inc.
Here's what I discovered. The AF system on the E-3 is super-fast, especially in this kind of environment. It captured tack sharp images and rarely locked on the background audience once I had focus on the tennis player. Set to ISO 400 to 800, I was able to freeze most action using a 1/1600 to 1/2000 sec shutter speed, and didn't even turn on the built-in image stabilization since at those speeds it's not going to help (and just uses more juice.) The resulting JPEG and RAW images speak for themselves, with great color, contrast, exposure, and low noise throughout. I shot over 1100 images during my courtside experience, and didn't need to swap out the batteries (2 in the optional battery/vertical grip) till I was nearly finished shooting.
The large, bright viewfinder made it easy to track the players during volleys, but it was so bright out at the court that I rarely used the LCD monitor to chimp my shots or adjust exposure settings. It wasn't till I got back to my home office that I wished I had done some chimping, and that was only during the shots I took of players serving the ball. Why? Apparently, the E-3's 5 frames/sec burst mode isn't fast enough to always capture the point in a serve where the ball comes in contact with the racket. In fact, the overhead swinging part of the serve happens so quickly that in the first frame the racket can be seen behind the head of the player as it begins its forward motion, but in the next frame the racket is nearly at waist level in front of the player. By starting the burst at a slightly different moment, I was able to capture several shots where the racket came in contact with the ball, but now I know why several pros at this event relied on Canon and Nikon DSLRs capable of capturing 8-10 frame per sec in burst mode.
The bottom line? The E-3 is a great bargain and a great performer, with sought after features such as built-in image stabilization, live view, a super-fast AF, ultrasonic dust removal, a pro body with weather seals, and excellent image quality at most ISO settings. It also has a unique rotating LCD monitor. (By the way, since it utilizes a 10.1MP sensor with a 4:3 aspect ratio, it's capable of delivering resolution equivalent to Nikon and Canon DSLRs sporting 12.3MP, 2:3 ratio APS-C format sensors.) Now if only the E-3 had a slightly faster burst mode it would rule on the tennis courts, but for most other purposes, 5 fps should do the trick.