Only a few weeks have passed since Panasonic and Olympus announced the new Micro Four Thirds system of cameras and interchangeable lenses. (For a discussion on that system's potential, see "New Micro Four Thirds system promises smaller, lighter DSLRs) Frankly, I didn't expect to see anything more than a wooden or plastic mockup of a camera based on that new system by this month's Photokina 2008 show in Cologne, Germany. After all, it took forever for the first Four Thirds System camera, the Olympus E-1, to make its debut after the system was announced.
So I was surprised to see a pre-production, fully functional model of Panasonic's new G1 several days before it's debut on Sept. 12, 2008. Two things jumped out at once: the incredibly small size of the camera and kit lens, and the attractive blue and red camera bodies that were being introduced along with the standard all black body.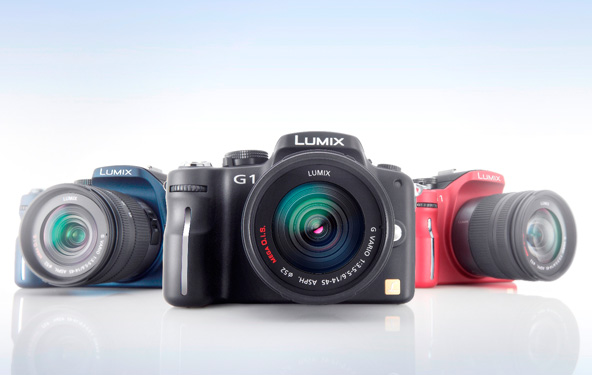 All photos courtesy of Panasonic USA, Inc.
Normally, I wouldn't be caught dead carrying around a red or blue-bodied DSLR, but I know women and teenagers are going to love the radical color combination. And even if I did venture out into the public eye with the red body and the event was captured for all to view on YouTube, I technically wouldn't be carrying a red-bodied DSLR since the G1 isn't an SLR at all! (Don't you love loopholes?) For a camera to claim SLR status, it has to have a Single Lens Reflex mechanism, which is a tech term used to describe a camera with a reflex mirror that swings out of the way during exposure and then drops back into place to allow light to reach the optical viewfinder.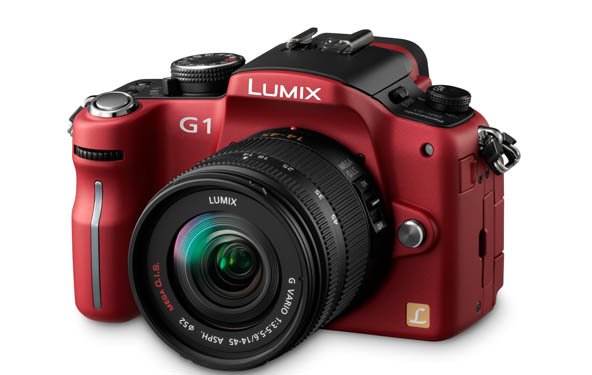 This bold-colored model will go perfectly with my red Farrari––after I win the lottery.
The new G1 uses an electronic viewfinder, albeit the finest one I've ever seen boasting 1.44 million dot resolution (more than four times the dots of a typical EVF viewfinder) and great color made possible using a LCOS (Liquid Crystal on Silicon) engine similar to those found in some high-end digital projectors. So without the reflex mirror it's not a DSLR, and it accepts interchangeable lenses so its not an EVF, and it has a live view mode so it's not a rangefinder. Bottom line? The G1 is really in a class of its own. But we can't have a camera class without a cool acronym, can we? So should we call the G1 and its offspring EVI (electronic viewfinder interchangeable) cameras?  (I decided to drop the "lens" from the end of the full name so as not to give it an EVIL acronym.) Or ILEV (interchangeable lens electronic viewfinder) cameras? Either choice is better than calling it a Micro Four Thirds System camera (although MFTS might work!)
Until I get my hands on a G1 for field testing, I can't tell you much more about its performance or eventual image quality. It already wins a prize for its EVF clarity (and data display capability), compact size, and the lightweight, compact size of its image stabilized lenses. However, there are several features that could make this camera a big hit despite its expected street price of $800 with the LUMIX G VARIO 14-45mm/F3.5-5.6 ASPH./MEGA O.I.S lens (see photo) and its limited lens selection (just one other offered–the LUMIX G VARIO 45-200mm/F4.0-5.6/MEGA O.I.S. telephoto lens).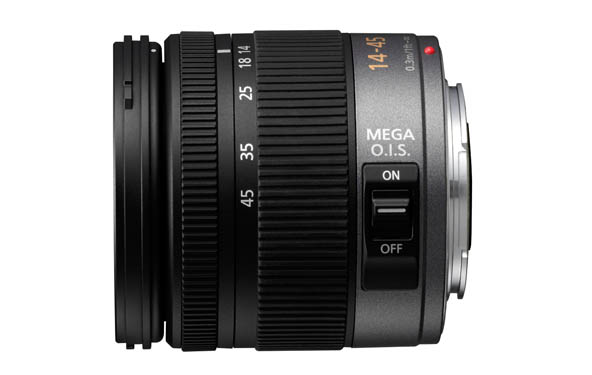 LUMIX G VARIO 14-45mm/F3.5-5.6 ASPH./MEGA O.I.S lens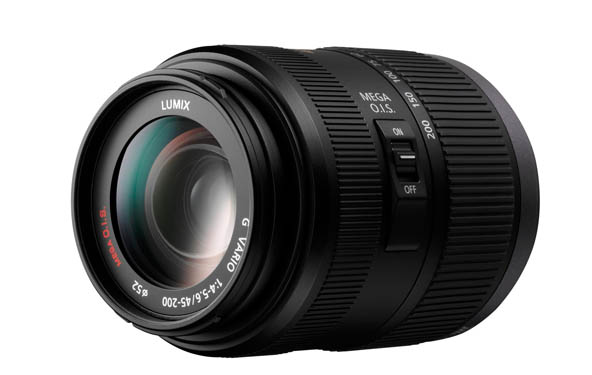 LUMIX G VARIO 45-200mm/F4.0-5.6/MEGA O.I.S. telephoto lens
For starters, you can expect image quality to be greater than that found on any high megapixel EVF super-zoom or compact camera (especially in low light) based on the larger (17.3 x 13.0 mm) size of the G1's Live MOS imaging sensor (which has the same dimensions as the sensors found in existing Four Thirds Standard DSLRs such as the Olympus E-3) and use of the new Panasonic Venus Engine HD processor.  It's 12.1MP sensor should deliver closer to the resolution we've seen in 14MP APS-format sensors due to its narrower 4:3 aspect ratio. And from my experience with the pre-production model, I expect this camera to focus faster than most EVFs and even DSLRs using their Contrast Detection AF capability in the Live View mode. The 23 focus zones rely on additional lens information to speed AF and track moving objects or faces. This Contrast-Detection AF system on the G1 seems fast whether using the EVF or the relying on the 3-inch, 460,000 dot rotating LCD monitor.
With Nikon and Canon both recently introducing DSLRs with video record capability, I was shocked that the G1 didn't have that ability, since it would be far easier to achieve in this "mirror-less" system than on a DSLR, and there's a great history of video recording in the Panasonic family of cameras. Panasonic reps have hinted that we could expect live video recording in the next generation of this camera.
Expect a Panasonic-brand waterproof housing to surface (pun intended) in the near future, as the size and weight of this camera, plus the smaller lenses, make it an ideal camera for use in an underwater housing. Panasonic offers housings for a wide variety of its compact cameras, and I know a few Panasonic technicians in Japan who can't wait to go diving with their own brand in hand. With this system's compatibility with Olympus-brand external flash units, and at least one from the manufacturer, Panasonic could finally break into the undersea world for serious photographers.