Every two years the giant Photokina Trade Show takes place in Cologne, Germany. Imagine a trade show where European picture frame manufacturers fill up a floor larger than a football field, consumer electronics (TVs, home theater, etc) has its own building, and where it usually takes several days just to figure out where the bath rooms are located–and you'll get an idea of how huge the Photokina show is. I've attended this show since the late 1990's, and usually come back with more than enough new material to write about as well as interesting photos of the show, city, and night life.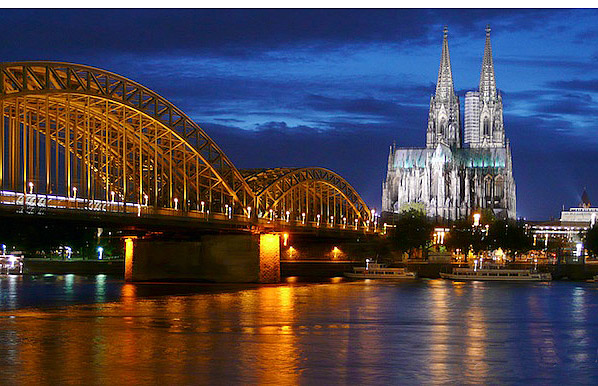 Photo of bridge across the Rhine and the DOM Cathedral taken from the Photokina Show side of the river in 2006. Camera: Panasonic Lumix DMC-LX2 in night scenery mode. 4 sec at f/4.
On the other hand, I also returned with a wicked cold, the flu, and overall exhaustion from the travel (September weather in Cologne is typically blah!). Last time I went, I had to wonder if the show was worth the hassle, given the fact that I already had been given sneak peeks at nearly every product of importance introduced at the show, and the information on those I hadn't seen was available on the internet within 24 hours. That was even before the dollar took a nose dive against the EURO and hotel prices skyrocketed to over $500 a day (within 5 miles of the show.)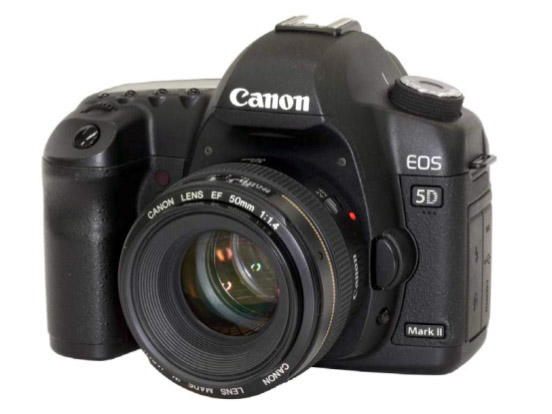 The 21.1MP Full-frame Canon EOS 5D Mark II with unique 1080i HD movie recording mode gets my award for top intro at Photokina 2008. But I saw it the week before, so why travel to Germany?
This year, given that my expenses weren't being covered by a major publication or news organization, I decided to miss the show. Looks like I made the right choice, too. By the time Photokina kicked off on the 23rd of September, I'd been briefed on 90% of the hot products that debuted at the show. The only real surprises were the Leica S2, a super-expensive medium-format digital Hassalblads, and a few Foveon-based cameras by Sigma. Of course, I have to admit that I missed some of the great parties, unusual exhibitions, and lack of inhibitions displayed by fellow journalists during afterhour beer hall visits), but I also didn't have to put up with lousy weather, crushing crowds, transportation delays, and questionable ingredients in the sausages being sold on corners. If I wanted those, I could have hopped on a train to NYC!
So Scott Shepard and I decided to cover the news and new products from show from the comfort of our own turf in an extended version of the McNamara Report that aired during Photokina:
After the show, while everyone who did go was recovering from jet lag, colds, and exhaustion after the show, I was feeling fine for a change. Now I'm wondering if I can do the same thing during that other GIANT nightmare of a show called CES in January. Wait! I like going to that show!