As a photographer, I love contrast. Perhaps that's why I'm intrigued by contrast in real life events as well as in photographic compositions. This week I had to deal with my share of both, as did many of my cohorts in the photo industry who traveled from the East Coast to Anaheim, California (and vise versa) in order to attend the Photo Marketing Association (PMA) 2010 trade show. There were plenty of high-contrast photos on display at the show, as well as notable contrasts between last year's exhibitor list and this year's (Canon did not have a booth at the show for the first time in decades. More on that in my upcoming show report). But those contrasts palled in comparison to how rapidly it went from sunny and productive days in Anaheim to snowy and destructive days in New York.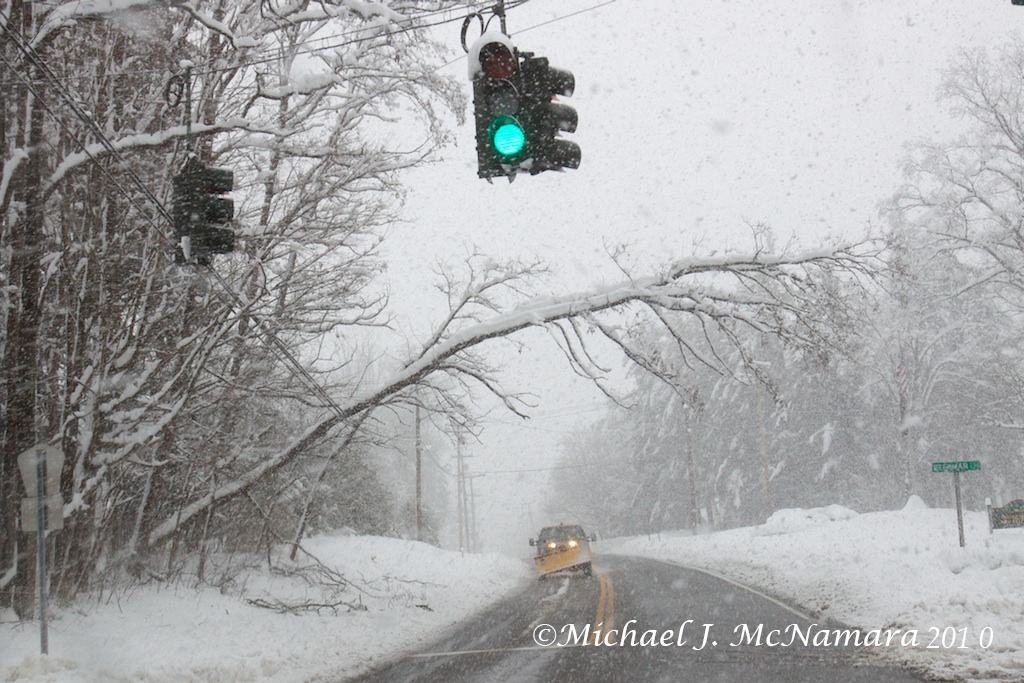 video interviews later, I finally had a chance to relax for more than the twenty minutes I spent on Saturday and Sunday nights watching the awesome Disney fireworks show from the hotel parking lot.
What's a tired journalist with a gassed up limo to do with a free Monday evening in Anaheim? Having never been to downtown LA or Hollywood, a road trip sounded like a good plan. My first surprise came when I typed "Hollywood Blvd" into the GPS and received the following dire prediction: "36 min to destination, No Traffic. Or 1hr 50 min with traffic." Wow! Obviously, the traffic nightmare I'd heard about in LA all my life is so common that they hard wire it into the GPS! As an optimist I'm inclined to see the road half empty and not half full, so as it was already 7pm I predicted it would take me an hour or so to get to get from Anaheim to downtown LA. I was way off, and only 35 minutes later I was there! (Traffic in LA? Not on my trip!) For the next two hours I drove around Hollywood, Melrose Place (yes, I punched 90210 into the GPS, but got an error message.), and even moved West down Ventura Blvd. Strangely, the streets and sidewalks were empty, and most shops closed up by 9pm. No where near as active as a typical Monday night on the upper West Side of Manhattan. After checking out all the sights and seeing none of the stars, I headed back to Anaheim on an empty highway.
What a difference a day makes.
Exactly 24 hours after I cruised past the Kodak Theater in LA on Monday night, I was bouncing around in a holding pattern waiting to land at JFK in what appeared to be a blizzard. It turned to rain a few hundred feet above the runway, but the dire weather caused a run on rental cars, and by the time I arrived there were no rentals left (and Hertz wasn't giving out Town Cars). I was forced to use my multi-train backup plan: (1) JFK shuttle to Jamaica station, Queens. 2) LIRR to Penn station, Manhattan. 3) Two subways to Grand Central station. 4) Metro North RR to Beacon NY.) Normally, that combo takes about 2.5 hours, but snow buildup on the tracks slowed us down, and by the time I got to Beacon it was 1:30am. There was also 8 inches of heavy snow on the ground blizzard conditions. Kudos to my brother Kevin, who braved the 10 mile trip to the station in his truck and I got me home at 2pm. As I was too wired to sleep, I decided to clear the snow from my 200 feet long driveway for an hour before hitting the sack.
The next day (Wed. morning), despite school cancellations all over my region, the NYC-based weather "person" barely mentioned the snowstorm that I had endured the night before. Seems the city got nothing but rain, and current worries were centered on the approaching Nor'easter. I heard the weatherman confidently predict (is that an oxymoron?) that we were going to get another 4-6 inches in my area before the next storm passed. I think a crystal ball would have been more accurate, as by Friday there was more than 30 inches of snow on the ground, it was still snowing, and there were thousands of broken trees and damaged houses in the area. Meanwhile, down in NYC outside the weather man's expensive apartment, only 21 inches of new snow was on the ground.

Do you believe the sign? It doesn't factor in the downed trees caused by 30 inches of heavy snow.
How did he, and nearly every other weather person on duty on Wed, miss the potential output of this storm? Was it a case of typical weatherman incompetence combined with a rare snow "tsunami"? I'll define a snow tsunami as a huge winter Nor' easter that mixes periods of heavy snow with periods of flooding rain. Normally, two feet of snow falling in the middle of the winter is a major hassle, causing delays and closings but not much more. However, when a foot of new snow is then mixed in with an inch or two of rain, followed by another foot of snow mixed in with more rain, followed by…well, you get the point. You wind up with is several feet of extremely heavy, sticky snow that pulls down giant trees, knocks out power, caves in weak roofs, and creates a disaster area overnight (this included most of southern New York State). The weirdest part of this back and forth, snow to rain, action was that the dividing line stayed constant for half a day between my studio and my home 10 minutes away. So when I left work at 3pm on Thursday afternoon, it was 35 degrees F and there was an inch of slush in the parking lot. But by the time I got to my house (5 miles away and at about the same altitude), it was 31 degrees F and there was 8 inches of snow on the ground!
Earlier I mentioned the fireworks I saw over the weekend in Anaheim. It was pretty, but took second place to the light show I saw while clearing my driveway in the middle of the blizzard on Thursday night. That show was the result of seven power transformers exploding in the neighborhood as tree limbs tore down power lines. As each transformer shorted, the sky lit up with an eerie red glow followed by a series of bright flashes. After the seventh transformer blew, the power in the area went out completely. I was lucky, and power returned for me the next day. But as I wrote this on Sunday there were still more than 20,000 folks without power in Dutchess county.
It's been nearly 13 years since the Blizzard of 1997 (3-31 to 4/1), which was the last to hit this area with the surprising fury of this week's storm. I remember the 97 Blizzard for three reasons: first, my wife was in labor for 18 hours during the storm delivering my second son, Bryan. Second, its 24 inches of snow knocked out the power all over the county for 4 days. Third: without ground lights causing sky glare it was possible to see the Hale- Bopp comet in the sky through a car windshield at night. There wasn't a comet out there last night, but the full moon sure lit up the snow.
I admit, I probably could have used the same time that it took to tell you this story to write up a full PMA show report. But I wanted to share the life-sized contrasts I experienced this week, as well as a few of the photos and videos I took before getting back to tech coverage. Perhaps some of you East Coaster's who were stuck in Anaheim during the storm will get better idea of what you missed. So enjoy the following photos (click them to enlarge) and stay tuned for the PMA report.

Canadian geese took refuge at the beginning of the storm in this nearby pond.
Hey, get back on your side of the road! I mean the tree, not the car.
Not a fun day to be a fireman or emergency worker.
Hours after this photo was taken, the tree in the background came crashing down. Fortunately, it missed the basket.