I got my first glimpse of the new Sony Alpha 900 back in January 2008 at the PMA show in Las Vegas, but I wasn't really impressed. After all, it's hard to get excited about a fake, plastic mockup hiding behind a sheet of Plexiglas even when all of the signs (and PR reps) around it extol its pro virtues and herald a Fall arrival. I've seen more than my share of early prototypes and wood-block cameras dissolve into the vaporware mist over the years, so of course I was a bit skeptical—especially since Sony had never built a pro-level DSLR and was trying to trump both the Nikon D3 and Canon EOS 1Ds Mark III.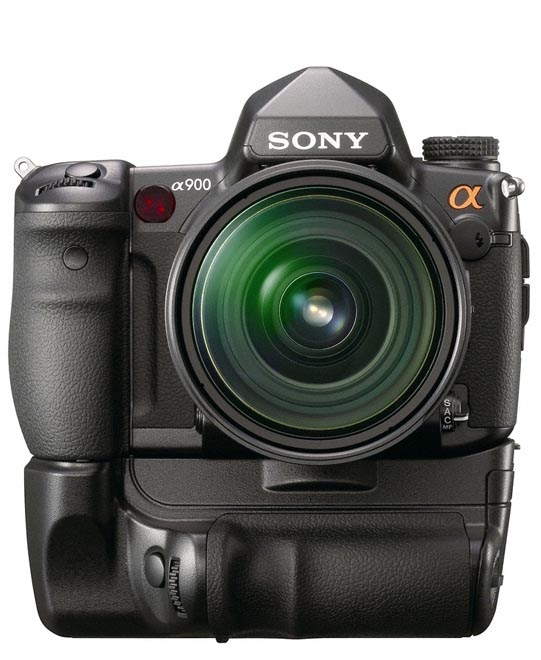 However, Sony rarely makes a promise it doesn't keep, and today (Sept. 9, 2008) it fulfilled itspromised delivery date by releasing the final specs on the Alpha 900, along with several new accessories and tons of photos. (See press release). But did it fulfill its promise to design and build a professional DSLR? If the specs, photos, and press release were all I had in hand, I'd have to say "yes" based on the features listed on this camera and its relatively low price—only $3,000 for the body. (Yes, that's right, in this case I think $3,000 for a DSLR is a super bargain, especially when compared to the Nikon D700, Canon EOS 5D, and Canon EOS 1D Mark III, all of which land close to that price point.)
I'm not going to spend time describing all the cool features on the A900, just the one's that I think give it pro potential and an advantage over the competition. For starters, a 24.6MP, full frame CMOS sensor should deliver the kind of image quality and resolution that medium format owners with digital backs are used to achieving. Only those photogs pay way more for a medium format system that's not as portable, sleek, or versatile. On that note, Canon EOS 1Ds Mark III owners constantly bragging about their 21.1MP images should be wondering how Sony could deliver a DSLR with a full frame, 24.6MP sensor, plus built-in image stabilization (SteadyShot Inside) that works with most Konica Minolta lenses, a sharper 920,000 dot 3-inch LCD (vs. 230,000 dots), a similar 5fps burst rate, and a higher ISO of 6400 (vs. 3200) all for 5 grand less than the Canon!
New accessories also bring up the caliber of the A900. Most notably is the Sony HVL-F58AM flash unit with its unique Quick Shift Bounce system and wireless control compatibility (see photo gallery). This innovative flash will change the way you use bounce flash in the future, and improve results especially when shooting portraits. Sony will also offer a VG-C90AM vertical grip that houses 2 InfoLithium batteries, plus several new lenses. You can view images of the camera, lenses, and flash at Sony's news site.
Ok, so the pro Canon and Nikon models all offer a live view mode—but is that feature worth several thousand dollars more? Not in my book. And I'll take the image stabilization and extra resolution provided by the A900 shooting 5 fps over the Nikon D3's lower 12.1MP resolution at 9fps any day. Of course, that D3 does do ISO 25,600, and both Nikon and Canon offer a greater lens selection–for now.
Sneak Preview:
Spec sheets and press releases are like movie trailers—if they do their job right they get you to take a look at the real thing when it arrives. But I guess I've been around long enough to attend sneak previews, and in this case that meant getting my hands on a preproduction Alpha 900 body, a look at some new Sony Zeiss zoom lenses, and an exciting new dedicated flash. It was only for a day—more than long enough to solidify my opinion about this camera's performance and feature set, plus give me a clue about how it will rate in the image quality arena.
In my opinion, based on over 17 years of testing digital cameras, the Alpha 900 is a pro camera in nearly every respect, from its optical viewfinder (100% coverage) and magnesium-alloy, weather-sealed body construction down to the placement of most control buttons. It also offers a plethora of fine-tuning adjustments available via menus, removable focusing screens, HDMI video output for HDTV viewing, Dynamic Range Optimization, and dual BIONZ processing chips for fast startup and performance. While heavier than most advanced DSLRs in the sub-$2,000 price range, the Alpha 900 body, at 30 ounces, weighs slightly less than the Nikon D700 (34 oz), and ¾ lb less than either the EOS 1Ds Mark III or Nikon D3.
The A900's viewfinder is a work of art, reminding me of the clear, bright viewfinders I treasured in my old favorite 35mm film SLRs such as the Canon A-1. Sony claims 100% coverage, and that's how it appeared without lab measurement. I was also surprised at the speed of the AF system, and the speed and duration of burst mode (considering I had the camera set to RAW+Finest JPEG). About the only fault I found with the camera's controls were the placement of the exposure-compensation button–which would be more reachable if it were swapped with the ISO setting button behind the shutter release instead of off to the side. Also, the top buttons would be easier to locate by feel if they had raised points (or nipples) instead of being flush with the surface of the camera.
Without lab tests to confirm, I still suspect that the Alpha 900's 9-zone AF system won't outgun the Nikon D3 or the EOS 1Ds Mark III, especially when it comes to tracking a moving object or one with vertical details in low light. But I had no problems locking onto fast moving butterflies, and the sharp viewfinder is one of the few that can be used successfully to fine tune manual focus. Also, the image stabilization system appeared to work well–although it wasn't possible to see the effect through the viewfinder as you can with lens-based IS systems. Only tests will confirm if the IS system delivers the 2-4 stop advantage Sony claims, but designing an IS system that can handle a full frame sensor is quite an achievement considering the physics involved.
As for image quality, I can't make a final judgment call based on the photos I took due to the pre-production nature of the camera. And while I shot RAW + Finest-quality JPEGs, I have yet to get my hands on Sony's RAW conversion utility to take a closer look at the "pre-production" RAW files. I can't wait till that software is available, since the image quality of the pre-production JPEGs blew me away, and I know the pre-production RAW files will look better when processed to 16-bit TIFF files. For samples shots I took with the preproduction version of the A900, check out the following photos:
One thing is for certain, I am going to be pushing my 17-inch Canon and Epson printers to their limits with the photos I shot using the A900 that day. Until you zoom into a 24.6MP image and realize you are looking at a ton of detail that wasn't even visible to the naked eye, you won't appreciate this cameras amazing sharpness.
One last comment on resolution: I shot nearly all of my photos using a Sony 24-70mm f/2.8 Carl Zeiss Vario-Sonnar T* lens and a Sony 70-300mm f/4.5-5.6G SSM lens ($800). I'm extremely impressed by the 24-70mm, and I can't wait to use the new Vario Sonnar T* 16-35mm f/2.8 ZA Carl Zeiss Series lens (approx. $1,800). Several times while shooting close-ups of butterflies and bees from a foot to 3 feet away I was approached by a Sony staffer and asked if I wanted to try out a 100 or 50mm macro lens. I declined for two reasons. First, getting within inches of a butterfly is nearly impossible no matter how stealthy you are. (Getting within inches of a bee is also not recommended.) Second, given the resolution of the captured image (and based on prior experience I had shooting with the 21.1MP Canon EOS 1Ds Mark III) I knew that I would still be able to crop and enlarge shots I took of these critters so that they appeared to be taken with a dedicated macro lens. Based on the number of pixels and assuming a very sharp lens, you should be able to print a full image as large as 20 x 30 inches at 200ppi. Crop the image down to ¼ size (the equivalent of using a lens with 4x the focal length, or getting closer with a macro lens) and you are still able to make up to 11×14-inch prints at 200ppi resolution. For nature photographers or paparazzi, that's cropping power!