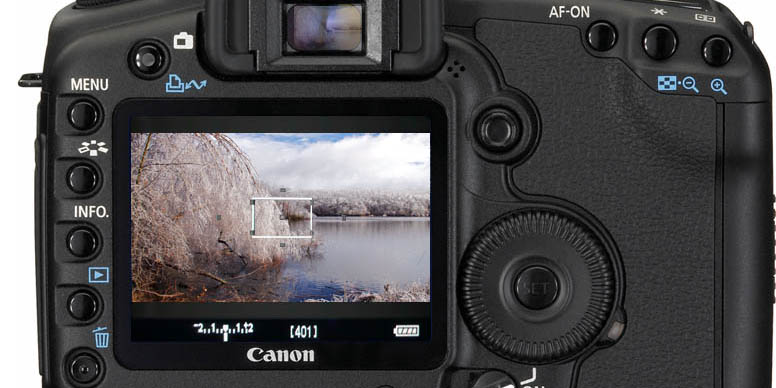 Canon's EOS 5D Mark II captures true 1080p HD Video with sound. Image quality and AF controls are minimal in video mode, but depth of field and wide angle views make this a hot feature.
Once DSLRs arrived with Live Preview modes, I knew it was only a matter of time (and several image processing advancements) before the video signal being pumped to the camera monitor would find its way directly to the memory card. I expected the first hybrid models would be from either Canon, Sony, or Panasonic—all DSLR players with a large stable of camcorders. Surprise! Nikon beat them to the punch with its 12.3MP D90 ($899 street) featuring a live view mode that could be used to record 720p video (1280 x720 pixels per frame, at 24fps) with mono sound. Word had barely spread about this camera when Canon trumped it with its more expensive ($2700 street) 21.1MP EOS 5D Mark II featuring a full frame sensor and true 1080p HD video recording (1920 x1080 pixels per frame, at 30fps), plus built-in mono sound and a stereo sound input jack.
You can bet that other video-capable models will be introduced by a variety of manufacturers in 2009 and beyond, just as a Live Preview mode spread from a single Olympus DSLR in 2005 to 80% of the current DSLR models. But the question that many serious still shooters are asking is whether a video mode is a must-have feature in a DSLR, or more of a gimmick designed to appeal to the horde of compact camera owners moving up to a DSLR?
For more commentary on video recording with a DSLR, listen to the October 25, 2008 McNamara Report segment on Inside Digital Photo (slide to the 20min 45sec mark for that segment);
Audio clip: Adobe Flash Player (version 9 or above) is required to play this audio clip. Download the latest version here. You also need to have JavaScript enabled in your browser.
After all, the demand for a DSLR Live Preview mode didn't come from pros converting over from 35mm film DSLRs, but from a new generation of photographers weaned on compact cameras and their "live view" LCD viewfinders. Those same compact shooters take video recording for granted as well—so why not offer the same function in a DSLR model made just for them?
Ok, I admit there's a flaw in my logic: The Nikon D90, and more so the EOS 5D Mark II, are really not aimed at compact camera owners looking for their first DSLR. However, the point is that there wasn't a measurable pent up demand from pros and advanced amateurs for a video recording function in their DSLRs, and now that is being offered, these same serious shooters are trying to figure out if it's a feature that will help or hinder their ability to make a living with their cameras.
Current state-of-the-art camcorder with high res still capture (including models from Canon, Panasonic, JVC, and Sony) deliver acceptable to fairly decent still image quality, and allow for still image capture that doesn't even interfere with video and sound recording. When shooting video on most of these models, you simply press the still image capture and a 2-6MP high res still photo is stored on a memory card, while video and sound are recorded to tape or a hard drive. This seamless switch between video and high res still capture modes makes it possible for pro videographers to capture and sell still images of an events to newspapers, magazines, and even wedding clients. In fact, some news organizations are replacing their DSLRs with hybrid camcorders to capture content for multiple platforms.
Unfortunately, switching to the video mode in either the Canon or Nikon DSLRs takes several steps. To shoot video, both cameras must first be set to live view mode—thus reducing the benefits of using the DSLR's super sharp and bright optical viewfinder, its super-responsive AF system, and most of its advanced image quality and metering controls. Sluggish autofocus can be achieved using contrast detection AF, or after a short black out and delay caused by the mirror swinging back into place for phase detection AF. But once video recording is started, neither camera will adjust focus to follow the action or subject–a staple on most camcorders. Despite the bright and sharp 3-inch LCD monitors found on both cameras, it's hard to tell if the subject is in focus in the first place, especially in bright light outdoors.
Other video "failings" include fewer image quality controls, reduced battery life due to higher video demands, intensive memory requirements for HD (even short clips take up 100's of MBs), and generally rotten sound. In fact, the built in microphones on both cameras tend to pick up all sorts of camera and environmental noises, and only the Canon offers an external microphone input jack for recording stereo. Then, unless you have an image stabilized lens or are shooting with a tripod, the video jumps all over the place when you are panning, and freezes for a moment when you take a still photo.
So, is a video mode in a DSLR a useless feature? Not at all! In fact, I'm all for it—and think that cameras such as the Canon EOS 5D Mark II will actually be on the HOT list for pro videographers who want its unique video capability, as well as still shooters who are primarily interested in its awesome full frame and high res still features.
For videographers, the APS-C sized sensor found on the Nikon D90 and full-frame sensor found on the EOS 5D Mark II make it possible to shoot HD movies using a wide variety of affordable wide and ultra-wide angle lenses. (Want a 14mm equivalent field of view on an HD camcorder? HA! It will cost you a fortune.) Those larger sensors also dramatically improve depth-of-field control so that backgrounds can be blurred out with unparalleled Bokeh. (The relatively small 1/3-inch to 1/5-inch sensors found in typical camcorders require lens focal lengths that deliver too much depth of field and make it impossible to blur out a background, even at widest apertures.) For more information regarding the still shooting and video capabilities of the Canon EOS 5d Mark II, check out the incredibly well-written Canon white paper on the EOS 5D Mark II.
Having a video alternative may allow traditional still photographers to capture video footage that would be impossible otherwise. For example, underwater photographers could switch to video mode at a moments notice to capture the fluid motion of the rare Pacific Mermaid, while mountain climbers could record the mating call and ritual dance of the Himalayan Abominable Snowman. In both cases, it's impossible to carry separate still and video cameras.
Before those unique video segments ever appear in a National Geographic HD special, the video from cameras such as the D90 or EOS 5D Mark II will flood internet entertainment sites dedicated to capturing the latest celebrity outing or "Girls Gone Wild" moment. For example, one of the best nightlife and fashion photographers I know, Shane O'Neal, covers a number of top clubs in Las Vegas, including the Playboy Club and Club Moon at the Palms Hotel and Casino. (www.shaneonealphotography.com). With an EOS 5D Mark II in hand, he is able to switch to the video mode and capture dancers, celebrities, and "wild" patrons doing what they typically do at these clubs after a few drinks, and post short video clips to the club's web site along with still photos. In the past, capturing video required a separate videographer on hand (at an extra expense). But now he can do both, and no one knows he's actually recording video with sound. The result? Some unique, and wild video that helps increase traffic, and may generate sales of hot video footage.
What's next? I expect the next generation of dual-mode DSLRs to improve on video ease-of-use, sound recording, and AF speed and tracking performance. Then I expect to see some hybrid accessories, such as a dedicated flash unit with a built-in stereo zooming microphone, an external 5-inch LCD monitor, external Firewire-connected high-capacity storage drives dedicated to video recording, and additional powerpacks to handle the video power drain. But don't expect the camcorder crowd to go away. In fact, 12MP camcorders are on their way.