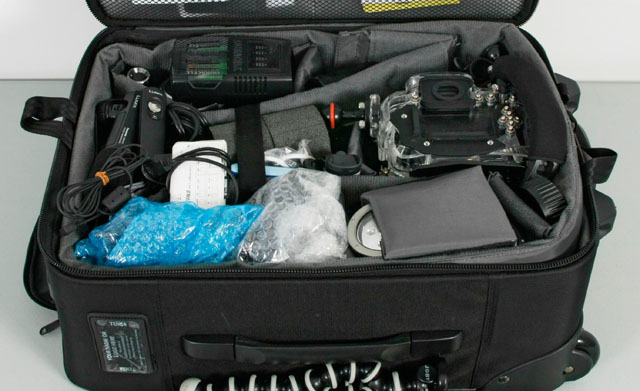 I'm not sure what's scarier:  facing an 8 foot White Tip Reef Shark from three feet away or figuring out what to pack for a two week long expedition that included everything from diving on the Great Barrier Reef to hiking through the jungles in the Wet Tropics of Queensland. My challenge, when it came to luggage, was that I was a one man show, and everything I packed I had to personally truck to the airport, in between connecting international and puddle-jumper flights at several airports, on to dive boats, and into hotels lacking elevators or even bellhops. On top of that, my goal was to minimize extra baggage charges, since the expedition had a UN budget that was more of an honorarium than a professional fee for the job I tackled.
Fortunately, I did my homework and researched exactly the baggage size and weight restrictions from each airline I would use. Further research and contacts at several consumer electronics companies helped me gather camera, computer, storage, lighting, communications, and GPS equipment that was light weight and compact. In the end, I found myself either carrying or rolling everything I needed, a minor miracle of technology when you consider that I had was able to take thousands of photographs and hundreds of HD videos underwater and above during the expedition, had no assistant to carry my gear, and didn't incur any extra baggage fees along the way! I also somehow avoided any pulled muscles or a hernia.
Even two years ago I couldn't have pulled it off because the equipment I needed to do both still and HD recording didn't exist. But due to the compact size and extraordinary capabilities of the Panasonic Lumix GH1, I was able to combine both media capabilities into one camera (with an underwater housing and lighting system that was about the smallest ever put together for an interchangeable lens system. Next on the list was a lightweight, super-powerful Sony V-series laptop, pocket-sized 500 GB external hard drives from Western Digital, and a variety of other products I'll list shortly.
I wanted to keep most of my camera and electronics gear with me at all times, so I got my hands on a Tenba Universal Rolling Photo/laptop case (my review of this case appeared in the Dec. issue of Professional Photography magazine) and packed it to the hilt with the equipment shown in the following photo: